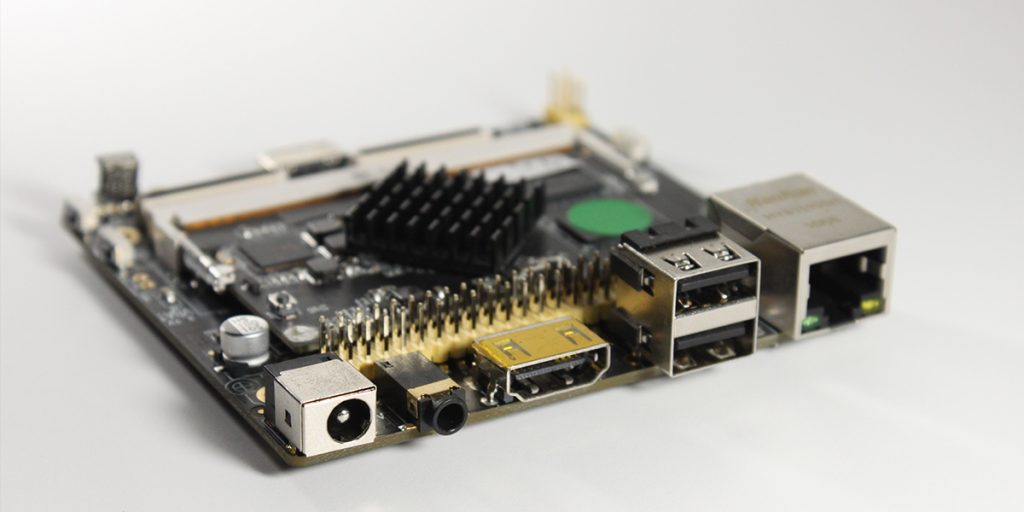 The Labrador board is the Caninos Loucos' first Single Board Computer. Open and with the functionalities of a computer, it is able to run on an Android or Linux operating system, access the internet via network cable or Wi-Fi, play videos, run text editing programs, and much more.
The Labrador is a combination of 2 boards, the core board, a small size card and high processing capacity, and the base board, where we find the various communication interfaces.
This set has ESD protection, is compact, durable and suits the most diverse applications, from personal projects to commercial applications.
32 bit Quad-core ARM® Cortex™ – A9R4 CPU
System on module design
2GB LPDDR3 SDRAM
On-board 16GB eMMC NAND flash storage;
204 standard DDR3 SODIMM pins
Recovery Button
Linux operating system, Debian
*Labrador ® board specifications
CORE BOARD V2.0
CPU
32-bit quad-core ARM® Cortex™ 1,3GHz
A9R4 CPU (ARM v7 instruction set)
GPU
Imagination PowerVR SGX544. *
Supports: OpenGL-ES 1.1 and 2.0, OpenGL 1.2.1, OpenCL 1.1 *
Memory
2 GB DDR3 SDRAM
16GB eMMC
Operating System
Debian 11 Linux Kernel 4.19 32-bits
PMU
ATC2306C – Power management and audio subsystem
Video
1080p@60fps supports video encoding (including H264, H263, MPEG-4)
Expansion
204 pins DDR3 SODIMM connector (male)
Button
ADFU
Dimensions
67.6 x 42.2 mm
Weight
13.6g
BASE BOARD M V1.0
Storage
MicroSD Card Slot SD/SDHC/SDXC
Ethernet
10/100Mbps (RJ45)
Wireless
Wi-Fi 802.11 b/g/n 2.4GHz
Bluetooth 4.0
1 x infrared receptor (38kHz)*
USB
2 x USB2.0 HOST (type A)
1 x USB3.0 OTG (micro-B)*
Display
1 x HDMI 1.4 (type A), up to 1920×1080@60Hz
1 x LVDS-DSI para LCDs, up to 1920×1080@60Hz
1 x CVBS PAL/NTSC (PJ342 3,5mm)
Audio
HDMI output *
Analog stereo output (PJ342 3,5mm) *
I2S input/output *
Embedded microphone *
Camera
1 x 8 bits parallel interface *
LED
1 x on/off (red)
1 x programmable (green)
1 x programmable (blue)
Buttons
1 x on/off
1 x reboot
1x programmable
Power
5~12V@3W (internal diameter 2,1mm, external 5,5mm, positive center)
Expansion
204-pins SODIMM connector (female)
40-pin header: 28 GPIOs (compatible with Raspberry Pi / supports UART, I2C, SPI, PWM and I2S)
ADC input
Debug
UART
Dimensions
88 x 81,3 mm
Weight
52,6g
* Features not supported by the Debian 11 Kernel Linux 4.19 OS currently available.
Resources