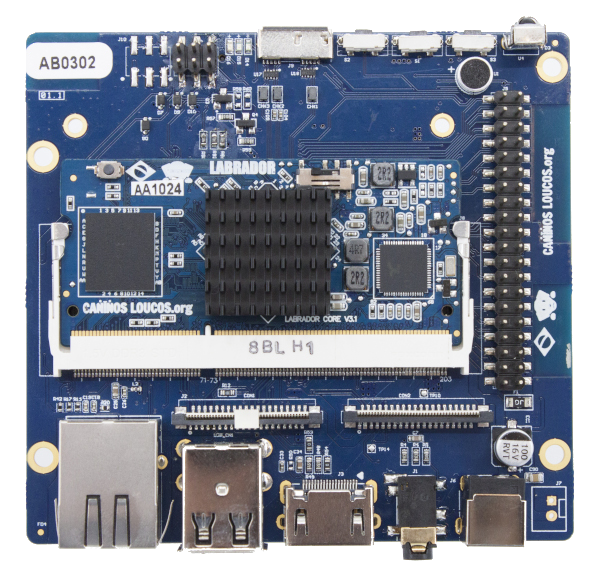 The Labrador board from Caninos Loucos is available in a version with a 64-bit processor. With a more powerful CPU and GPU, it can be used for Edge Computing and Computer Vision, artificial intelligence applications and has the ability to export videos in high resolution.
Labrador is a Single Board Computer, designed for the Internet of Things. It consists of 2 boards: the Labrador Core Board, provides all the processing power and memory of a modern computer, and the Labrador Base Board expands the options for peripherals and communications, offering a variety of connectors.
This version also comes with a more modern baseboard, with Bluetooth 5.0 and ready for LoRaWAN connectivity.
Caninos Loucos' modularity in Labrador allows great flexibility for prototyping and interface testing. Other base boards can be used with the 64-bit core board, allowing the implementation of customized applications with specific functionalities.
This set has ESD protection, is compact, resistant and serves for the most diverse applications, from personal projects to commercial applications.
CORE BOARD V3.0
CPU
64-bit quad-Core ARM Cortex A53 1,3GHz CPU (ARM v8 instruction set)
GPU
ARM Mali450 MP6 (4PP + 2GP).
Supports: OpenGL-ES 1.1 e 2.0, OpenVG 1.1, EGL 1.5
Memory
2 GB LPDDR3 SDRAM
16GB eMMC
Operating System
Debian 11 Linux Kernel 4.19
PMU
ATC2306C – Power management and audio subsystem
Video
2160p@30fps ou 1080p@60fps supports video encoding (including H264, H263, MPEG-4)
Expansion
204 pins DDR3 SODIMM connector (male)
Button
ADFU
Dimensions
67.6 x 31.0 mm
Weight
10.1g
BASE BOARD M V2.0
Storage
MicroSD Card Slot SD/SDHC/SDXC
Ethernet
10/100Mbps (RJ45)
Wireless
Wi-Fi 802.11 b/g/n 2.4GHz
Bluetooth LE 5.0
LoRaWAN™*
1 x infrared receptor (38kHz)*
USB
2 x USB2.0 HOST (type A)
1 x USB3.0 OTG (micro-B)*
Display
1 x HDMI 1.4 (type A), up to 1920×1080@60Hz
1 x LVDS-DSI para LCDs, up to 1920×1080@60Hz
1 x CVBS PAL/NTSC (PJ342 3,5mm)*
Audio
HDMI output*
Analog stereo output (PJ342 3,5mm)
I2S input/output
Embedded microphone
Camera
1 x 8 bits parallel interface *
LED
1 x on/off (red)
1 x programmable (green)
1 x programmable (blue)
Buttons
1 x on/off
1 x reboot
1x programmable*
Power
5~12V @ 3W
(internal diameter 2,1mm, external 5,5mm, positive center).
Expansion
204-pins SODIMM connector (female)
40-pin header: 28 GPIOs (compatible with Raspberry Pi / supports UART, I2C, SPI*, PWM and I2S)
ADC input
Debug
UART
Dimensions
92,7 x 88.0 mm
Weight
59,4g
* Features not supported by the Debian 11 Kernel Linux 4.19 OS currently available.