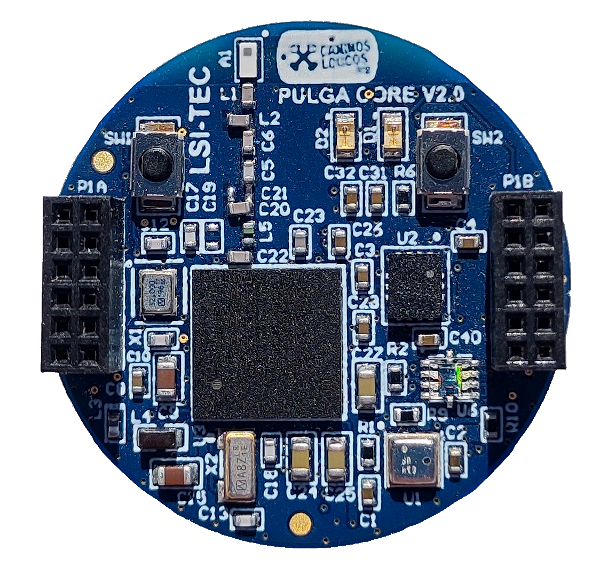 The Caninos Loucos Pulga board is a powerful microcontroller with a large number of sensors, highly secure, and ideal for IoT applications. Completely designed in Brazil.
The low power board is approximately the size of a quarter dollar coin (24,26mm) and supports Bluetooth 5.0, allowing for wireless connection between multiple Pulgas.
Aspects such as modularity, via an autonomous core board and an optional base board, and energy harvesting capability, enables great exibility for hardware interfaces prototyping.
The base board allows for adding functionality for custom applications. For example, by adding long distance wireless protocols and new sensors, you can meet the demands of dierent projects.
Finally, the harvesting allows for capturing energy from dierent environmental sources, ensuring energetic autonomy to the board.
MAIN BENEFITS
Flexible
The architecture gives endless opportunities
Autonomous
Supports several harvesting possibilities
Modular
Dierent base bards can be used
Economic
Designed and manufactured in Brazil
Simple
National Engineering right in your hands
Secure
End-to-end security
IDEAL FOR
IoT applications
Edge-computing
Sensoring and actuation
Smart networks
SPECS
CPU
ARM Cortex-M4F
Disk
1024 kB
RAM
256 kB
Wireless
Bluetooth 5.0
Bluetooth Mesh
Security
Crypto Acceleration (ECC, AES, SHA)
Peripherals
I2C, I2S, SPI, UART, USART, GPIO Light/UV sensor
9-axis sensor (Gyroscope, Accelerometer, Magnetometer)
Environmental sensor (Temperature, Humidity, Pressure)
LED
2 x programmable (Reg/Orange)
Buttons
2 x programmable
Energy
1~6V with harvesting capability
Expansion
24 I/O pins (Coreboard)
58 I/O pins (Module)
Debug
SWD
Operating System
Mbed™ compatible
Dimensions
25mm diameter (Coreboard)
20 x 20mm (Module)
Weight
aprox. 4g